Welcome to Wabbyfun wholesale
At Wabbyfun we're dedicated to providing the finest collection of facepainting practice boards for professionals and beginners alike. With our exceptional quality, captivating designs, and extensive range of models, we are your go-to destination for all your facepainting needs.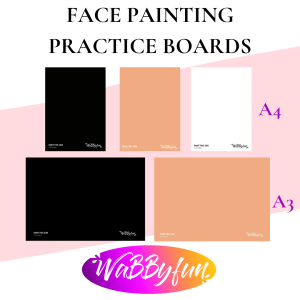 Our practice boards are crafted with utmost precision. They have a special structure, perfect for facepainting, cleaning and extensive re-use.
WIth the rounded corners and 1mm transparent margin around the design, they are not only one of a kind, also more resistant to wear and tear.
Our designs are neutral and respectful of realistic proportions. This way, every artistic creation comes to its maximum potential.
We take pride in offering a diverse range of facepainting practice boards: from children's, ladies' and men's faces to side views, arms, pregnant bellies and neutral blank boards.
No matter where you are, we ship worldwide.
We are still looking for resellers on every continent.
To start with Wabbyfun Wholesale, first create an account. Your account will be manually verified. You will receive a username and password via email.
You can always use that account to log in and order.
Once your account is approved, log in to our website and immerse yourself in a world of artistic possibliities.
Browse our extensive selection, see prices, and discover the perfect facepainting practice boards for your customers.
With just a few clicks, you can add your chosen items to your cart and proceed to the checkout.
Your order will be processed by our team.
After receiving your order, we'll contact you via email.
You receive an invoice with all products in stock. Your package will be weighed and the correct shipping costs will be added to your invoice.
Shipping in Belgium and the Netherlands is free from an order value of 200€ vat excl.
This email with invoice also contains a secure payment link.
Your order will be shipped upon receival of your payment. We do our best to ship all orders within one business day.